Competition Team
Established in 2012, The Vertitude has prided itself in our ability to support our athletes in all their performance needs.
2019 Vertitude Fall Competition TEAMS
The cost to join the Competition Team is a one-time enrollment fee of $259 until 8/20/19. If you're joining BOTH Competition Teams (PSO After Dark Pole Competition & ASO Amethyst Aerial Competition) add $50. Late Registration 8/21/19 - 8/25/19 add $30.
If you have a current Vertitude Membership at the time of purchase you'll receive the following discount on your comp team enrollment:
Basic Member - $60 off the enrollment (in addition to your membership)* Not Available for late registration
Standard Member - $80 off the enrollment (in addition to your membership)* $Add $20 for late registration
Platinum Member - $160 off the enrollment (in addition to your membership)* $Add $10 for late registration
Visit PRICING to learn about our memberships.
What You Get:
Unlimited Open Pole / Open Aerial sessions from the day you sign up until the weekend of the competition. We have dozens of regularly scheduled open sessions weekly. If you sign up early, you'll get more than 2 months of included open sessions!!!

Special Exclusive Open Pole / Aerial sessions exclusive to Comp Team members only.

2hr dedicated weekly practice time with your teammates & coaches. PSO will meet Saturdays & ASO will meet Sundays. Both will meet from 3:30pm-5:30pm .

A Mock Competition w/ Judges Round Table featuring actual current / former Competitors & Judges, who will give you feedback and scores just like you'll get on competition day.

Professional Audio Editing service for your comp team music.

25% Discount on Grip Aids and Vertitude branded apparel.

Discounts on Private Sessions with Comp Team Coaches and participating Vertitude Instructors.

A welcome packet chock full of preparational materials, information, and a calendar that maps out exactly where you should be in your training as well as other important competition deadlines. (An e-mail link to a Google Drive Doc will be sent)

The encouragement and support of your fellow competitors!

All of the twerking!
What we expect of you:
You MUST be registered for PSO After Dark, ASO Amethyst, or another approved fall competition (such as PSO Northwest) before their sign up deadline.

You MUST list The Vertitude as your affiliated studio for the competition (You MAY represent another studio in addition to The Vertitude. PSO / ASO allows up to two studio affiliations. However, you must list The Vertitude FIRST.)

You MUST wear a Vertitude branded item (such as a warm-up jacket) during awards ceremonies and at any time that you are a spectator at the venue.

Tag The Vertitude in all social media announcements regarding the competition and any rehearsal/class photos or videos.

Maintain your current or higher membership level if you received a discount on your competition team fee*.

Attend required practice times and abide by the general deadlines set in place by your coaches / PSO / ASO / competition committee.

Always support your fellow competitors.

Play nice. Be a good sport.
Important dates:
TODAY : Enroll and begin using your Unlimited Open Sessions. Questions? email info@thevertitude.com
Aug 17 / 18 : Official Comp Team coached sessions begin
Aug 19 / 20 : PSO / ASO registration deadline. Comp Team Registration Deadline
Aug 25 : Comp Team Late Registration deadline
Sep 21 / 22 : Informal peer run-throughs
Oct 5 / 6 : Mock Competitions & Judges Round Tables
Oct 17 : Final Dress Rehearsals for both PSO / ASO
Oct 19 / 20 : PSO After Dark / ASO Amethyst Competitions
Other specific competition deadlines and coach suggested deadlines will be outlined in your competitor's packet calendar.
*If membership level is not maintained, the discount will be charged back.
Questions? Email info@thevertitude.com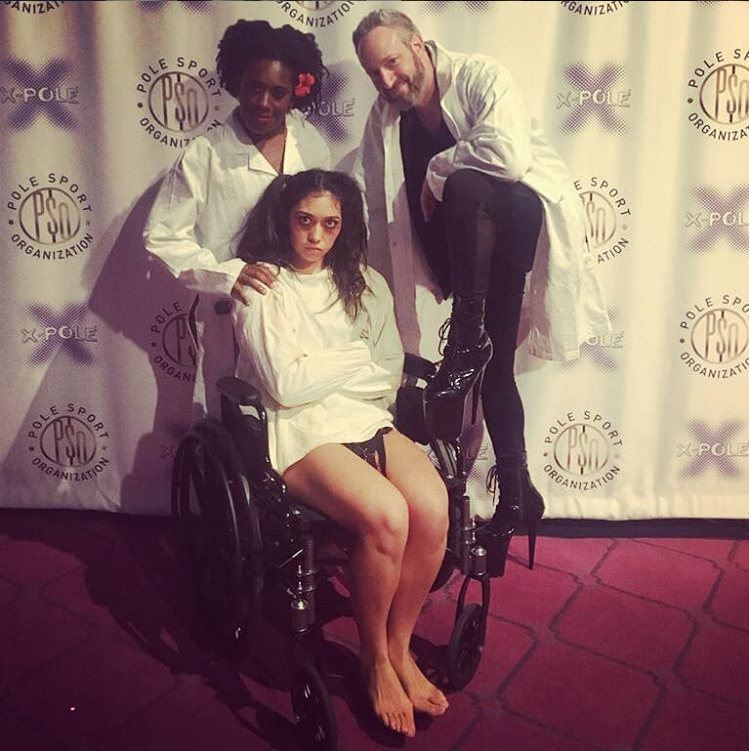 Team spirit
Available during peak regional competitions, Competition Team allows competitors to receive the support, encouragement, and valuable feedback whenever they need. Our weekly feedback sessions with staff contribute to both individual development as well as fostering camaraderie.
World Class Coaching
Our competitors have access to elite instruction, to coaches and choreographers, open training hours, and the support of our in-house staff of nationally recognized champions and performers.
We provide all level of athletes and performers opportunities to pursue their passion for dance.
Whether your aim is to experience your first on stage performance, supplement your practice with more hands-on training, or medal in competition, we can help you get there.
Facilities
We boast over 3000 square feet of training space – complete with professional rigging and performance grade apparatuses. Furthermore, there is ample floor space and lighting controls available to simulate your stage. The studio is also available for open booking. Contact info@thevertitude for rates and availability.
The Vertitude L.A. Competition Team History
2019
Amethyst Aerial Competition - Los Angeles, CA

PSO After Dark - Los Angeles, CA

US National Pole Championships - San Francisco, CA

Pacific Pole Championships - Los Angeles, CA

Golden Gate Pole Championships - San Francisco, CA
2018
US National Pole Championships - North Hollywood, CA

Pole Theater USA - Atlanta, Georgia

Pacific Pole Championships - Los Angeles, CA

Golden Gate Pole Championships - San Francisco, CA
2017
Northwest Pole Championships - Seattle, WA

US National Pole Championships - North Hollywood, CA

Pacific Pole Championships - Los Angeles, CA
2016
US National Pole Championships - Seattle, CA

National Aerial Pole Art Championships - Los Angeles, CA

Pacific Pole Championships - Los Angeles, CA
2015
US National Pole Championships - Redondo Beach, CA

National Aerial Pole Art Championships - Los Angeles, CA

Pole Theatre USA - Denver, CO

Pacific Pole Championships - Los Angeles, CA
2014
California Pole Dance Championships - Los Angeles, CA

National Aerial Pole Art Championships - Los Angeles, CA

SuperShag Pole Fitness Championships - Boston, MA

Pacific Pole Championships - Los Angeles, CA
2013
US National Pole Championships - Las Vegas, NV

Pacific Pole Championships - Los Angeles, CA
2012
2012 Pacific Pole Championships - Los Angeles, CA